How to make the perfect cracker-style thin crust pizza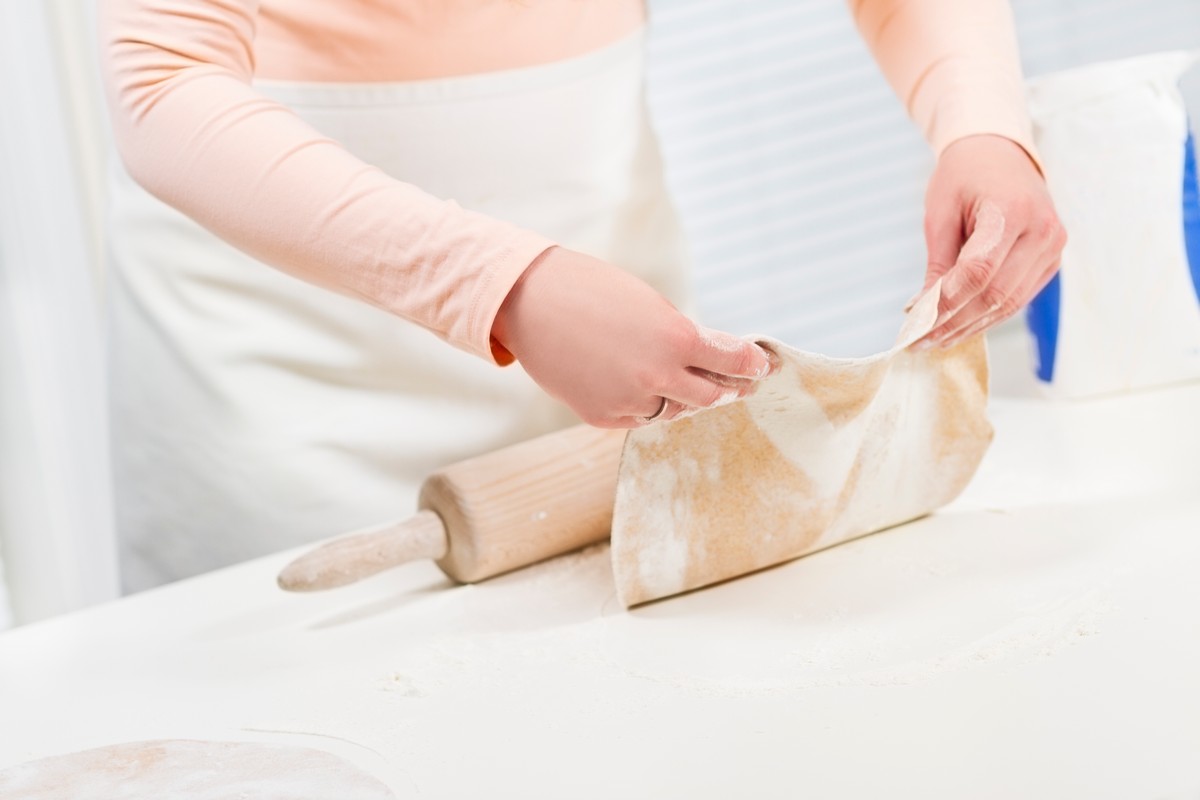 My fatherís favorite pizza is thin and crispy with loads of pepperoni. As he was visiting us this weekend, I decided to make a thin crust pizza in his honor. For a while I had wanted to try a recipe from Pizzamaking.com which looked very similar to the Pizza Hut thin crust pizza recipe. Here are the ingredients I used in the dough:
16 oz hi gluten flour
3/4 cup warm water
1 tablespoon vegetable oil
1 teaspoon active dry yeast
1 1/2 teaspoon sugar
1 teaspoon salt
As this dough mixed, I became worried that it looked too dry. In fact, the dough was crumbling and forming small shards of dry dough inside of the breadmaker. I allowed it to go for about ten minutes before taking it out in an attempt to salvage the dough ball. I kneaded it by hand, trying to shape it, but there was no hope. The dough ball was quite dry and lumpy barely able to be balled and placed in the bowl for retarding.
Not confident at all about the look of the dough, I decided to make another batch with slightly more water and oil. The following is the thin crust pizza dough recipe that I used for the second batch:
16 oz hi gluten flour
1 cup warm water
1 tablespoon vegetable oil
1 teaspoon active dry yeast
1 1/2 teaspoon sugar
1 teaspoon salt
Both balls were allowed to retard in the refrigerator for 24 hours. When I removed them there was no improvement to the first batch of dough. It still looked quite dry and lumpy. The second ball, however was quite nice and very extensible. Despite the looks of the first dough ball, I decided to try stretching it. This proved to be a futile attempt as the surface of the dough was dry and very tough. The second ball, however, proved to be quite pleasant to roll with a rolling pin. I was able to roll the dough out to create a 16 inch pizza.
The second hitch that I ran into was the lack of a cutter pizza pan. These pans have a sharp edge which cuts the dough as you roll it leaving a clean round pizza crust blank. The closest I had was a metal pan which I normally use for a serving tray. This pan served well for cutting the dough. It also appeared to work well for baking. However, when the toppings were browned and I used the peel to remove the pie, I noticed that the bottom had not browned at all and that the pizza had stuck to the pan!
I an attempt to salvage the pie, I carefully scraped it off of the pan and transferred it onto my screen. I baked the pie for a few more minutes, allowing the bottom to brown sufficiently. After all of this, the pizza, topped with leftover blended plum tomato neapolitan sauce, pepperoni and mushrooms, was ready for eating! In fact, it tasted very good. The texture of the crust was very appealing. It could hold its form (not droopy) but had a bit of a chewy bite to it. Overall we really enjoyed this flavor.
I learned a few hard lessons while making this dough. Firstly, I have to go back and double-check the recipe to see why my first batch just wouldnít combine at all. There must be some explanation for the difficulty I had.
Secondly, I have decided that I canít use a pizza pan and no pizza stone. I think that the metal simply couldnít transfer enough heat to bake the bottom of the crust. I also think I will be purchasing a Californo oven and a cutter pan before I return to this recipe which may also help.